What Factors Affect Checkweigher Prices?
Factors Affecting Checkweigher Prices
Checkweighers are often used in industrial production lines. These devices are used to check the weights of products and detect faulty or missing products. They are widely used in many sectors such as the food industry, pharmaceutical industry, packaging industry and logistics. They can also be integrated into the production line as part of automation systems, thus making production processes more efficient. Checkweighers are also used in product packaging processes, as the correct weight of products is an important factor in packaging.
Checkweighers are important devices used in industrial production lines to check product weights and detect faulty products. However, checkweigher prices can vary depending on a number of factors. Here are the main factors affecting checkweigher prices.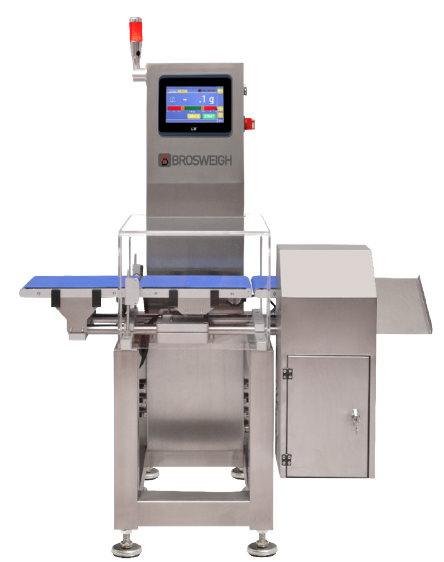 Capacity and Speed
Sensitivity
Technological Features
Material Quality 
Integration Capability
Brand and Supplier
The conveying capacity and speed of checkweighers have a significant impact on the unit price. High capacity and speed systems are generally more expensive.
Sensitivity levels are a critical factor determining the price of a checkweigher. Applications requiring higher sensitivity usually require more advanced sensors and technology, which increases the cost.
3. Technological Features
The technology and features used directly affect the price of checkweigher. Features such as data management capabilities, automation integration, connectivity options can add additional cost.
The quality of the material checkweighers are made of is critical for durability and long life. Models using industrial-grade materials can often be more expensive.
5. Integration Capability
The compatibility of checkweighers with other automation systems and the ability to communicate between machines have an impact on price. As the integration capability increases, the cost may also increase.
There may be price differences between different brands and suppliers. More well-known brands can often be more expensive, but may also have advantages in quality and customer support.
By considering these factors, businesses can choose the checkweigher that best suits their needs. In this way, it will be possible to control the correct product weights and optimize production processes. 
Brosweigh checkweigher systems are completely project-specific and provide free installation support to 7 regions of Turkey. For detailed information about our checkweigher systems, you can contact us or click on the link to start reviewing. You can use the link for outsourcing.